The construction industry is one of the largest in the world and highly competitive. Whether your company is B2B or B2C, reaching potential customers means cutting through a lot of noise and standing out from competitors.
That's why it's important to have a strong marketing plan in place. Marketing has a lot of moving parts, but six major elements of marketing are particularly important for construction companies. Let's look at what they are, what they involve, and why you shouldn't forget them.
1 - Website design & development
Your website is one of the first impressions potential customers will have of your company. While websites have a lot of moving parts, yours needs to have three things:
Clear calls to action (CTAs) and contact information that make it easy for people to reach out for services
Copy that explains the services you offer and what sets your company apart
A modern and user-friendly website design
When construction companies reach out to us, website design and development is one of the most common things they ask for help with. An outdated site can make potential customers question whether your company is still in business. A well-designed website that provides all the information customers need will build trust in your brand and increase conversions.
2 - Local SEO
But in order for your website to be found, it needs to be optimized for search engines. Search engine optimization (SEO) involves using your website to target the keywords or search queries your ideal customers would use to find your services.
For construction companies, local SEO is often the most important to focus on. While you can target more general keywords, like "fix a roof leak," you'll be targeting people across the country (and the world) and likely end up sandwiched between DIY results, if you even rank at all. It will be much easier to rank for local keywords, like "contractors near Saratoga Springs, NY," because you'll have less competition. You'll also be targeting the searchers who are most likely to hire your company.
In order to succeed with local SEO, you'll need a Google Business profile, an optimized website, and a bit of patience. SEO is a long-term play, which means you won't see results overnight, but if done right, your website will appear near the top of search results (increasing trust in your brand), and you'll get steady traffic from Google searches.
3 - Social media marketing
Being active on social media can also help build trust in your brand, but you'll need to be on the right channels for your audience. Businesses often jump to set up a profile across all the most popular channels, but this is a waste of time and resources if it's not the right fit for your brand.
For construction companies, social media marketing is typically used for two purposes:
Increasing brand awareness and building trust with potential customers
Showcasing company culture and recruiting new employees
You'll need to consider which channels your two audiences (potential customers and potential employees) are active on and whether your content is a good fit for those channels. For example, architects, remodelers, and design-build firms would be able to produce great visual content for Instagram. Many B2B construction companies, whether commercial contractors or engineers, would benefit from being on LinkedIn. Conversely, it makes more sense for B2C companies, like residential plumbers, remodelers, and contractors, to use Facebook.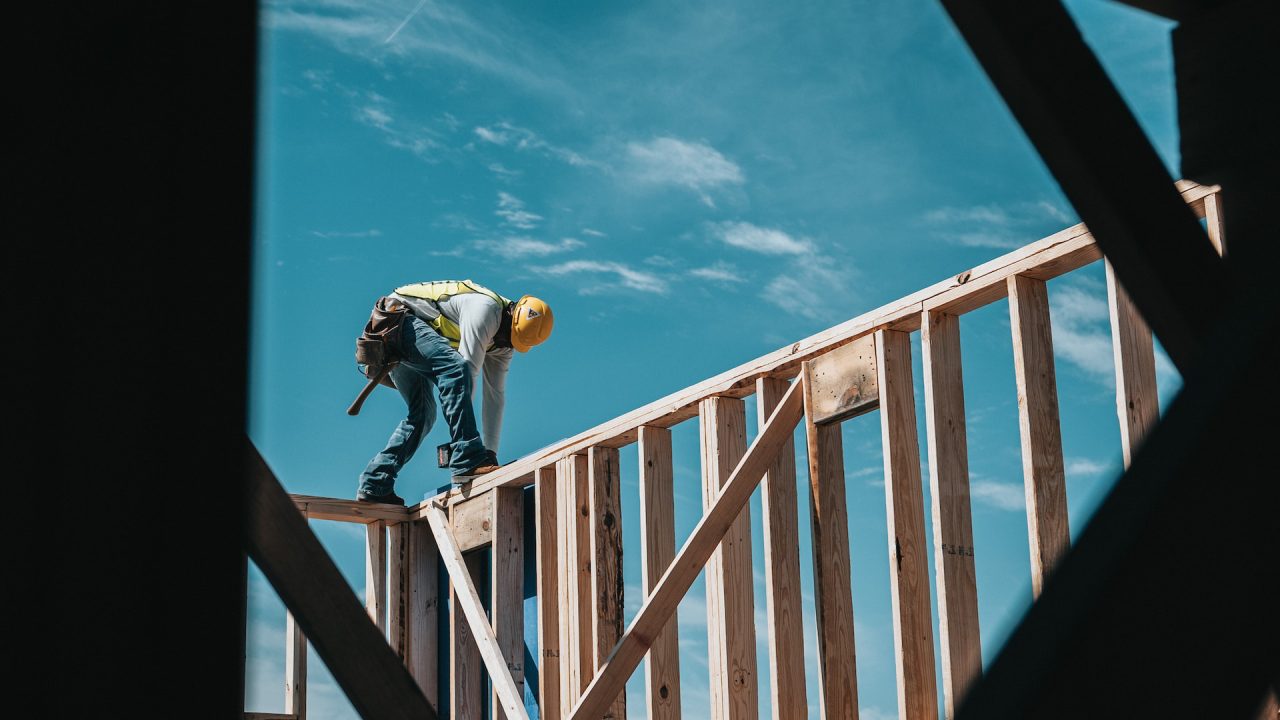 4 - Digital advertising
Digital advertising is a broad category but includes search engine ads, display ads, and social media ads. Just like with social media marketing, it's important to use the right advertising channels for your business and audience.
Advertising spend can get expensive, so choosing the right types of ads to run and targeting them to the correct audience is highly important. Some platforms — such as Facebook, LinkedIn, or programmatic — will let you target people based on their location, demographics, interests, and more.
If your competitors are bidding on local searches like "contractors in Saratoga Springs, NY," you might need to start running Google Search Ads. You should also keep an eye out to make sure no competitors are bidding on searches of your brand name — and if they are, you'll likely need to start a brand defense campaign.
5 - Traditional advertising
Traditional advertising — such as print, TV, and radio — is still an important part of marketing, especially for B2C companies in the construction industry. Running ads in local publications or on local radio and TV stations is important for brand awareness.
If you work on a more national level, there are also many industry publications and associations you can use to promote your brand and gain brand awareness. Advertising through these channels can get expensive, so figuring out which ones are the best value for your money is crucial.
It's important for your ads to be on-brand and well done. And it's equally important to have a strong digital presence (website, local SEO, and social profiles) to support your traditional advertising efforts. If a potential customer hears about you on the radio, they should be able to find you online to learn more and contact you easily.
6 - Professional photos & videos
Photos and videos of the work you've completed build trust with potential customers. But construction companies often struggle to produce high-quality visual content. Asking employees to take photos of their work can produce mixed results that are often okay for social media but not for use in websites or ads.
The construction industry, in most cases, is highly visual. Your team produces concrete results, and those results should be showcased to potential customers. Professional photography and videography will help your company to look more professional and show customers what they can expect if they hire you.
Photos of job sites and completed projects, professional headshots of your team, drone videos of your work, and video testimonials from happy customers are just a few things that can enhance your website, social media content, and ads.
Ready to build your brand?
There are many moving parts to marketing your construction company, but the good news is you don't have to go it alone. SIX has worked with design-build firms, contractors, subcontractors, architects, and enterprise-level construction software (SaaS) companies. We can build and implement a comprehensive plan for marketing your business.
Learn more about the work we do for construction companies or schedule a short call with one of our experts.