Hi there! We are SIX's most recent college interns, Emma & Lauren, here to tell you about our time interning with the SIX team this summer.
SIX Marketing constantly has an intern on their team. Their desire to educate the young professionals of the current generation is constant, and there is something to be said for a small company who never shies away from a new team member. On our first day we were both asked what we wanted to learn this summer. While we both stated specific things, we wound up learning a little bit of everything there is to know about marketing.
SIX U.
What colors this internship the most is its focus on education. Throughout the summer, we were trained on various platforms that are used in daily practices at marketing agencies such as Hubspot, Google Analytics, and Facebook Blueprint. Not only did we have the chance to practice working with the Hubspot CRM, but we also were able to use the Hubspot Academy resource to gain certification in Inbound and Content Marketing. By studying a series of educational videos outside of the office, we were able to integrate those practices while working with the SIX team. We also learned how to connect analytics from platforms such as AdWords and Facebook Ads Manager and make a conclusion on marketing trends.
A unique aspect of SIX is that its clients are involved in various different industries. From marinas to stem cell therapy, SIX offers a wide range of services. What's important to note about this variety in clients is that it constantly forces the SIX team to learn. Research is required for each new client and it has allowed the team to become educated in topics that were completely unfamiliar to them before. We had the opportunity with the team this summer as SIX on-boarded new clients.
Culture First
Every company needs their own culture. It sets the tone for who they hire as employees and clients and how they conduct their regular business days. It allows for clearly defined goals and standards to work and live by. On our first day, we were given five core values that SIX stands by to guide our work throughout the summer. The environment at SIX is welcoming and it allows for ideas to flow freely with the opportunity to ask questions. Everyone constantly learns together and strives to grow in the same direction. For example, every Friday there is free lunch provided by SIX. At these lunches, each team member shares a new marketing tactic or approach that they learned in the past week. It helps the team as a whole to walk away from lunch with fresh perspectives.
SIX uses social media to share what inspires the team and demonstrate their growth as a company. As interns, we learned how to put together a social editorial calendar. This calendar plans out the Facebook and Instagram posts that SIX will use throughout an entire month. Each day has a different topic or bucket so as to not post the same thing constantly. Blog posts are also a part of SIX's social media routine. Blogs are used to inform potential and current clients about best practices and what is going on in our culture at SIX.
Another learning experience that the SIX team offered us was client interaction. Throughout the summer we were able to sit in on client meetings, whether they were in person or video calls. There were also day trips to Vermont to meet with our out of state clientele. The value in these meetings was hearing the language used by each client and how SIX responded to them. It allowed for a better understanding of the agency and client relationship. It also provided the opportunity to hear directly from the client on what their goals were and it helped us move forward with creating content. Beyond the meetings, simple email interactions gave us the chance to learn how to properly word our messages when discussing work with clients. Being able to learn about SIX's clients and connect with them didn't only come on a professional level, but also for fun! On our SIX Fun Day, we visited their client, Woodard Marine for a day on the water!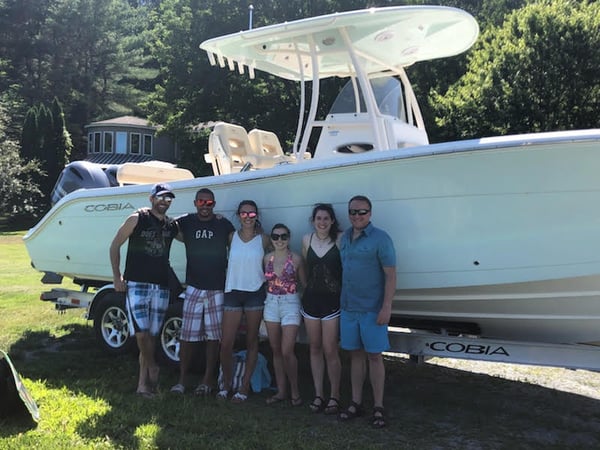 The SIX Toolbox
There are various tools a company uses to organize their information and content. We were able to utilize these platforms to our advantage during the summer. Google Suite, Dropbox, and SmartSheet are the main resources SIX uses to organize its work. On a daily basis we turned to client folders and were able to easily access the information we needed. It gave us the opportunity to learn how agencies run smoother when using these platforms.
Lastly, we learned how the design process of a marketing agency works. During out first few weeks we had the opportunity of helping design a direct mailer for one of our clients. The agency uses tools such as Adobe Photoshop, Illustrator, and Effects on a daily basis to help conceptualize concepts. It was helpful to learn different tools of marketing that catered to the creative rather than tactical and conceptual planning.
Our time at SIX was a brief two and a half months. What we are walking away with are certifications and knowledge that we can carry with us into the next stages of our professional careers.
For aspiring marketing and media professionals, being an intern at SIX is a great stepping stone, and not a bad way to spend the summer!