What do politicians, marketers and salesmen all have in common? People don't trust them! Let's be honest can you blame them? It's not hard to see why some politicians and salesmen earned this rep; however, marketers are now in the same bucket. Years of the snake oil agencies that sell "services" that clients "need" but don't perhaps fully grasp has changed how marketers approach business. Too often, marketers take advantage of new technologies to make a buck and it's simply unacceptable. Trust is earned; let us earn your trust. Here's how.
Revelation
For the past three years, SIX has attended the live event/conference/seminar called INBOUND. INBOUND is hosted by Hubspot. Who is Hubspot? Hubspot is one of the leading marketing, sales, and service software companies out there today. They coined the term inbound marketing; a customer-centric model that has revolutionized how modern marketers operate. With INBOUND, the conference, they've packed together almost 25,000 people who are all facing the same issues, challenges, and obstacles all business owners, advertisers, and advertising agencies face daily.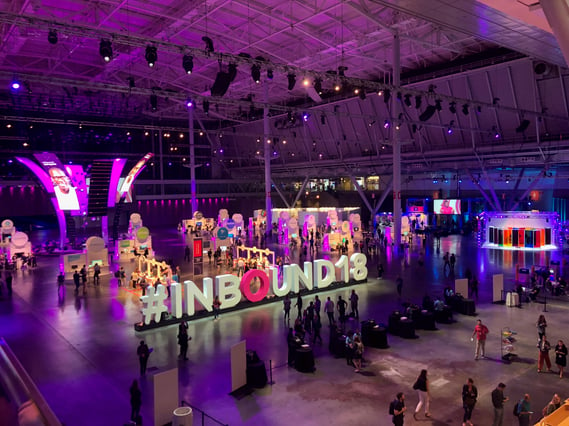 Over the course of four days, people share, people offer solutions, and people provide inspiration for all these issues and so many more. The advice comes in many varieties and flavors. Ranging from mutual peers to keynote speakers like this year's Deepak Chopra, or years past like Former First Lady Michelle Obama, Gary "Vee" Vaynerchuk, Simon Sinek, Seth Godin or Arianna Huffington.
At this, the 2018 version of INBOUND, there were two themes worth mentioning.
Authenticity

(While this is an underlying theme to the primary topic of this post, it is something we will go into at another time.)

Trust

(Yeah, this is the one we're going to be talking about.)
We were smacked in the face with the reality of trust as if it were Monkfish being tossed at the Pike Place Fish Market in Seattle. Instead of it being a delicious creature of the sea, it was a poll.


Simply, Shocking Stats
A Gallup Poll, which revealed that Advertising Practitioners

were only 1 position higher

than members of Congress on the Trust Index.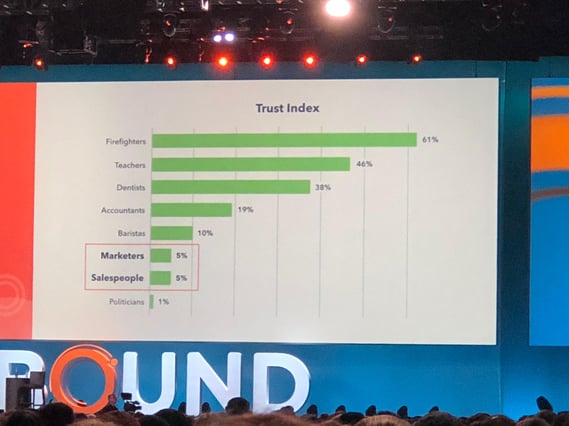 Not gonna lie, we'd rather it have been a fish.
However, we get it.
We don't get why we're barely above Congress. But we do get how advertising practitioners have taken trust, cast it aside, and moved accordingly with self-serving agendas causing not only consumer skepticism, but also businesses to balk at the idea of another business trying to do what is the best interest of the client and not themselves.
SIX Marketing isn't the biggest advertising agency out there, and we can't speak on their behalf. Even though we've seen all the seasons of "Mad Men", so we have that going for us.
What SIX can say with great confidence is why we feel being a small, boutique agency not only benefits us but more importantly, our clients.
One word: INTIMACY.
We know our clients, we know their families. And in some cases, we are a part of their family, as they are a part of ours.
We genuinely, AUTHENTICALLY care.
Sure, you may think all advertising agencies, or all marketing salespeople say this.
Why should you, the client, trust us, the advertising agency?
Because we consciously take the perspective of the owner of the business. Your business isn't a short-term hobby, it's a lifelong commitment. We get that! Every decision we recommend for the business is to help develop a relationship, a partnership, and allegiance with one goal: Success!
If an event, campaign, and/or strategy we've conceptualized, scrutinized, and labored over works--We did our job.
If for some reason it doesn't--and let's face it, there are going to be times when things are simply out of our control-- we don't sleep. Tossing and turning, wondering, agonizing over what we did wrong and what could we have done differently?.
We know you get that too. Why? Because you go through the same exact thing when it comes to a dissatisfied customer.
They're your insomnia. Like you are ours.
A Client Story
Back in 2008, the domestic auto sector was on life-support and eventually needed to be bailed out by Congress (Seriously we're only one point higher?) and us, the taxpayers.
Chrysler/Jeep/Dodge was downsizing. Closing dealerships nationwide. One of our clients was a Chrysler dealer. Any day this dealer was going to receive a letter in the mail letting them know whether or not his legacy dealership was about to either survive or die.
This dealer was petrified of telling his staff they were no longer able to be employed at a company they've worked for their entire adult lives.
The fright was palpable. And this wasn't a weak man. There was simply nothing he could do.
At that moment, we realized, these are people we're dealing with. People with families, people with lives they're responsible for. And you bet your ass we were going to bust ours to make sure every decision we made, every campaign we proposed, and every copy we wrote would be in all our clients best interest.
A couple days later, this dealer received a package in the mail informing him that his dealership survived the cuts.
10 years later, they are still open and selling more cars than ever!
At SIX, we can tell you our clients names, their interests, their passions, about their kids, hell, we can tell you their favorite sports teams. Especially if they differ from ours.
Why should you trust us at SIX Marketing?
Truth is, you shouldn't. We just want a chance to earn it.
Find out more about SIX and why are Core Values are very important to us.