Freebound holds the same technique as Inbound Marketing where it draws customers to products and services via content marketing, social media marketing, search engine optimization and branding. However, it removes any information-captures making it hyper-customer centric allowing the consumer to contact the business first, rather than the other way around.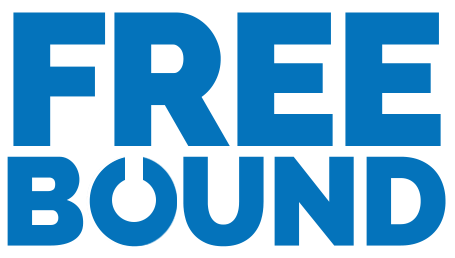 Revolutionizing Inbound
The Inbound Methodology has reformed traditional marketing techniques. It is like a dream for us to be able to target hyper-specific audiences and follow leads through the buyer's journey while we capture their information through forms and other online engagements - this gives marketers the largest book of contacts! But what about from the customer's perspective? What do you get out of this? Sure, all you have to do is insert your email into a form in order to download the infographic or eBook. But how many times do you put in your old email or one you just made for this exact reason? I myself am notorious for using an email that I only check when I need coupons or downloadable offers. It's like the online version of a junk drawer. From a marketing perspective, we wonder, how effective is this as a strategy? Are we really helping the customer?
Goodbye, Forms
There is one small hiccup in the Inbound Method and it is asking a person for their personal information without cause. As a customer, if you were interested in what we have to offer, aren't you going to be the one that answers our emails anyways? So why don't we just cut to the chase and give you the power to contact us first to have a conversation or even just answer a question you may have. No more follow-up email campaigns and no more spam mail. And especially, No. More. Forms. Adding the Free to the beginning because although we are going to continue to practice the Inbound methodology, we are removing the part about the forms. Where you might see a form though, is when we actually do indeed need your information, some examples are our Marine Website Analysis, or Website Analysis, for those we need your website and email as it is something that requires us to do research for your company. However, we will keep our promise to not continue the conversation unless, as stated before, you have a question or comment.
Resource Reboot
The ongoing goal of SIX Marketing is to actualize the true intent behind the Inbound Methodology. We have decided to undergo a complete system reboot and give our consumers the greatest possible experience. Here's where Freebound enters the picture. We have put a lot of time and effort into our material that we hope you find useful and we want to offer it to you free because we strive to generate the best possible resources for anyone who needs them. Some services necessitate a conversation between us, but the decision to initiate any and all contact is up to you. Here at SIX, we put you back in control of your business
Our Philosophy

We feel deeply about following through with our core values. This movement in particular emphasizes our want to "Act Daring" and "Strive For Continuous Improvement". Freebound seeks to eliminate the process of asking consumers questions in exchange for our content which is a risk because we are hoping that the good natured people that we know you are, will contact us, genuinely interested in learning more! Our team is the first and only Marketing Company on the planet who can promise this commitment to our future partners. Our priority is your success and we invest hundreds of hours developing and improving the best strategies to help in whatever are you may need.
Visit our Resource page right now! That is, if you want our awesome and FREE content.