"So, what does everybody think?" Christopher Ryan, the CEO of SIX Marketing, asked the room.
He wasn't asking about what we were all thankful for on the last day before the staff of SIX took a long weekend to celebrate Christmas. No, no, he was asking who we were going to choose to receive almost a quarter of a million dollars in advertising and services... for free!
And the room, as it commonly is when you surround yourself with bright, opinionated, and creative people, was divided.
The Do Good Grant and why we created it
"Do good'"is one of our core values at SIX.
It's a mantra with the purpose of reminding us to do something to help someone every single day. It can be the smallest of tweaks, like suggesting a better hashtag for a social media post, or a game-changing act, such as carefully mapping out the next year of a company's marketing plan.
While our tactics are constantly changing due to situations and circumstances, the objective never changes: do something kind because it could change someone's day or life for the better.
With this as one of our fundamental beliefs, coupled with our expertise in dealing with the Google Ad Grant program, the marriage was obvious. This is why we decided to create the Do Good Grant.
The Do Good Grant consists of up to $120,000 in Google Ads (courtesy of the Google Ad Grant), plus an additional $80,000 in SIX advertising services for one year.
But how do we determine who receives this potentially game-changing marketing plan?
The selection process
When SIX first announced the Do Good Grant back in 2018, we asked for applications from any and all non-profits.
The results were astounding and somewhat overwhelming. We received dozens of applications from a wide variety of organizations, each possessing extraordinary causes. We, the staff of SIX, were asked to take the pile of applications and each pick our favorites.
Choosing the finalists was as difficult as it sounds. It was as if we were on Shark Tank and stepping out on the carpet before us was noble cause after noble cause. Each finalist had an emotional story to tell and each had a profound effect on their community.
Once we went through the applications and each chose our two favorites, Christopher gathered us, some in-person and some remotely, and asked, "so, what does everybody think?"
We each took turns sharing our selections and giving our reasons why we chose them. When we had narrowed it down to two candidates, one of us suggested we call the two finalists and talk to them.
Which is precisely what Christopher did. And when he came back, it was clear. Our winner was Beyond My Battle.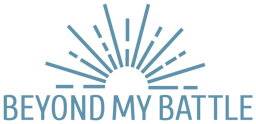 What is Beyond My Battle?
Beyond My Battle is a non-profit organization that focuses on the mental and emotional well-being of those who suffer from chronic disease and illness. Based in Saratoga Springs, NY, Beyond My Battle started in 2016 when two friends with vastly different incurable diseases discovered an untapped sense of understanding.
Their mission was clear: use mindfulness, awareness, and compassion to relieve the inherent stress of having, or loving someone with, a serious illness or disability.
And we wanted to help let the world know about this organization's wonderful cause.
Our experience with Beyond My Battle
Whenever you start a partnership, there is excitement splashed with anxiety. The newness of it all is exhilarating, but you're also trying to discover how to best work with your new partner. Not only was Beyond my Battle (BMB) a new client, but they were entrusting us with the task of informing the world about their passionate purpose.
With endless amounts of information and knowledge exchanged, we worked with BMB to create their Google Ad account from the ground up. Effective communication was crucial to knowing when the big donation times were, when new content was released, or when there was an event that could use additional promotion.
The combination of our services and the Google Ad Grant turned out to be the equivalent of a kid in a candy shop; it gave us a basically limitless budget, turning the world into an oyster for promotion.
Almost a year later, our main strategist for the BMB account, Jaclyn Shyptycki said, "Beyond My Battle was actually my choice to receive the Do Good Grant, so for them to be picked at the beginning of the year and then for me to take on the account was amazing. Working on this account with Martel has driven such a great amount of traffic to the site and the materials they offer. And we are actually working on a plan to continue our work together!"
And what did they think of us?
"We love you guys! We have enjoyed and appreciated working with you!" — Martel Catalano, Executive Director and Co-Founder of Beyond My Battle
It's been 3 years since BMB won the Do Good Grant, and we're happy to say that they are still a client!
We've seen great results over the years, but while we love success, the most rewarding part has been collaborating with them for a greater purpose. Building something where the outcome is greater than the sum of its parts. Becoming invested in a cause with so much at stake. That's why we created this grant in the first place.
And that's why we do this every year.
The next recipient
Currently, SIX is reading applicants' stories for our next Do Good Grant selection. The ability for our agency here in Saratoga Springs, NY to help any company receive local, national, or international recognition is what we strive for. If you're interested in applying, visit our page below to receive the full application.
With our local nonprofit clients, it's extra rewarding to be able to work with people who are directly impacting the Capital Region community. To be able to meet up over coffee and see how they are doing. To be able to hand them a Christmas gift in person and see the smile spread across their face when they see how much we appreciate having them as a client.
Because no matter what gift we give them, it pales in comparison to the gift they give their community and the gift they provide us — the opportunity assist them in doing good.
Merry Christmas and Happy Holidays!
— Team SIX
[Editor's note: This article was originally published on December 19, 2019 and updated on December 7, 2021.]