The November 2017 issue of Boating Industry magazine reached out to SIX Marketing for our insight into upcoming digital trends for the boating industry. Author Tim Hennagir interviewed multiple thought leaders to develop this comprehensive guide for boat dealers around the world. If you would like to read the full article, you can find it here- 2018 Digital Marketing Guide.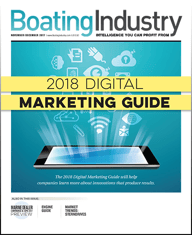 During the interview, Tim asked the following questions to the owner of SIX, Christopher Ryan. You can find his responses below.
1) What types of marine industry clients does SIX Marketing currently serve?
SIX currently serves numerous facets of the marine industry from boat dealers to manufacturers and marinas as well as provide support for marine industry suppliers.
I would prefer not to share our entire client list, but we work with some amazing dealers throughout the United States and manufacturers like WAM-V. We are also in the process of building a never-before-seen leads platform for over 200 boat dealers.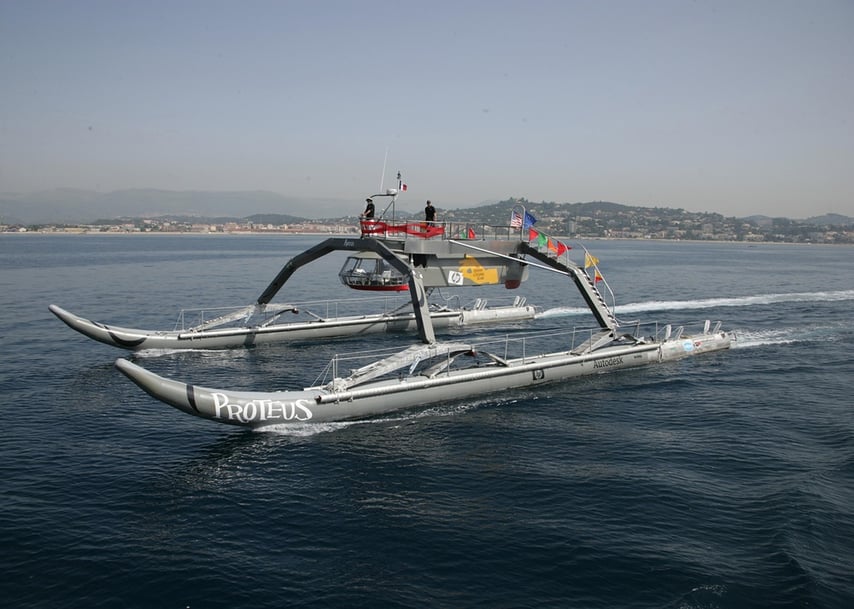 2) Explain how the "Marine Mary" concept can be used as educational tool to show inexperienced dealers the importance of content driving digital marketing sales.
Using Marine Mary as an educational tool is the best way for our clients to understand who their target market is and how we plan on reaching them. "Marine Mary" represents an element of Inbound Marketing called a buyer persona. Buyer personas are representations of a business' ideal client/s. Through research, we take a much more in-depth dive into the everyday lives of these personas to learn about their challenges, needs, and goals. By exploring personas in detail, we can deliver messages they would be more receptive to. Essentially, we serve the right person with the right content at the right time. (Note: Most businesses will have multiple personas.)
Part of the buyer persona process is also to interview each of the organization's departments in order to establish a cohesive understanding of their goals and to provide them with a simplistic view of their target market. Through this, marketing and sales teams begin to work together, which ultimately provides consumers with a better user experience and increases sales. Traditional demographic targeting tends to makes assumptions that a particular group thinks alike and are at the same stage of the buying process. This generalization of large-scale targeting could potentially cost businesses customers.
Boat dealers can benefit by becoming early adopters of this modern marketing way of thinking. When you choose to connect with customers on a more personal level, your entire perspective of customers tends to change. This connection will lead to increased market share and mitigate costly mistakes. Moreover, consumers are smart and can spot general sales-focused advertising immediately. People are served so much content on a daily basis that they are trained to filter out the typical advertisement. Giving them a personalized experience significantly increases a brand's chances of converting this interaction into a sale.
3) Regarding social marketing, what up-and-coming trends are most exciting for SIX Marketing and its efforts to serve the marine and boating industry?
The boating industry, at its core, promotes a lifestyle based around social interaction. When boating, we wave to one another and are excited to share the boating experience with friends and family. Naturally, the best way to promote social interaction is through social media.
When SIX brings on a new social marketing client, there are a few questions we ask before establishing their strategy;
What social media marketing platforms do your customers prefer? What features do they use to interact? What resources do you already have that we can utilize?This will help us determine the best way to invest their marketing dollars.
What trends are up-and-coming? Well, that can change on a daily basis, literally. It can be frustrating for some boat dealers to keep up, but it's also an opportunity to connect with your customers on a deeper level.
Video in digital marketing, especially social, almost always performs better than other types of media. But if you are a boat dealer that doesn't currently have a video library, coming up with a plan for a full video strategy can be overwhelming. A great way to begin is to explore opportunities like video by building it into your long-term plan. If you don't have the budget for HD, story-boarded videos, start with something simple like Facebook Live - where your videos don't need to be polished. Users expect Facebook & Instagram Live to be a real-time, quick view into your brand. Mixing a cocktail of what's trending and what an organization can provide, could lead you down the road to continued success.
For 2018, we are encouraging our marine clients to pay particular attention to the following:
1. Instagram is the fastest growing social media platform and with the proper strategy, will give you a unique way to give your customers a clear view into who you are, what you stand for and why you are different.

P.S. If you haven't explored Instagram Stories, make sure to start immediately. Instagram Stories almost instantly killed SnapChat and has the potential to dominate this realm.

2. Video and Live Video will still command everyone's attention. Your customers, especially in boating, want to see what's going on behind the scenes and be part of the excitement even if they can't be there.

3. AI (artificial intelligence), Chatbots and Facebook Messenger are the future. AI will be the biggest change impacting how we do business. It will create a better customer experience, help us connect with consumers in real-time and provide imperative sales and marketing data. The companies that begin to learn about AI will gain an exponential advantage above their competitors.
4) What's the most common misconception small to mid-size dealers have about digital marketing's effectiveness in today's sales climate?
Ensuring that marketing dollars are adequately invested is paramount to our clients' success. If you want the most bang for your buck in marketing, start investing in digital. We often hear that organizations know they need to advertise on social media or digital but don't know where to start.
The most common misconception in digital marketing is that people think what used to work in marketing still works. Businesses used to be able to craft their own brand story and advise their customers through their marketing. Now, through the internet and social media everyone is connected in real-time and your brand's voice, products, and services are frequently researched before they ever reach out to you. The sales team used to be the expert source of knowledge; now savvy consumers are educated and come to your dealership knowing just as much as your sales team.
We see organizations, both small and large, waste thousands of dollars on campaigns because they don't understand the digital realm. For example, they try to "sell" on social or use poor content choices like "click-bait" phrases on PPC (pay-per-click) that don't deliver what's promised. The world has changed, and your marketing needs to change with it.
Social Example-
Numerous businesses (and boat dealers) often make the mistake of continually running sales and promotions on social media for example. Ask yourself, when is the last time you logged onto Facebook when you wanted to buy something? Yet, companies continue to push the sale, sale, sale method. I'm not saying it never works but you have to be very strategic in how you present this type of content. Try delighting the consumers by giving them things they want and the sales will come later. If you are not giving them an epic experience to remember, then you are leaving the door open for someone else to.
Poor Content Example-
When brands enable a poor content strategy like click-bait, they end up costing themselves money and ensuring a poor customer experience. Suppose a company ran a PPC ad that stated "Brand New Bowriders- Only $89 Month*." The consumer would likely be enticed enough to click. It will drive traffic to their website but once the consumer clicks he/she finds out that yes, it's $89/mo...but with $20,000 down. What kind of experience does that provide? This business essentially paid to give their customer a bad experience.
Finally, your website features nine "Strategies & Tools That Drive Profit." Select any THREE from this list and explain how they can be used as one of "18 ways" to drive more sales in the coming year.
1. Inbound Marketing- if you want to drive more sales an Inbound Marketing strategy will provide you an ongoing funnel of leads. You will attract more strangers, identify and qualify more leads, increase sales and delight more customers. If you want a steady funnel of leads in 2018 then you need to start developing a concise strategy and begin creating content that provides value to new potential customers.


2. Growth Driven Design Websites- your website needs to evolve as your customers do. GDD websites give you continual strategy that adapts to your customers needs and serves them with a website experience that will leave them wanting more. GDD websites are built around the user's behavior; the user tells you what they are interested in and then you use this data to give them a better, ongoing experience. Making assumptions of what your customers want on a website is a thing of the past.

Let your competitors lease a website or use a cookie-cutter template that looks just like everyone else's. If you adopt a GDD website philosophy, chances are you will obliterate the competition.
3. Sales & Technology- if your main goal is to increase your sales for the upcoming year, marry your sales strategy with marketing and technology. Once they become a cohesive unit you will undoubtedly produce more success.
What makes SIX different is our concentration and adaptation to the entire customer experience from beginning to end helping your customers choose your brand above all else.
Great Marketing

+

Expert Sales Training

+


Superior Technology

produces the




Fastest Business Growth

.

More importantly, that we reach them with the right message at the right time. Even though Marine Mary is one persona, her experience throughout the buyer's journey is significantly different.

By exploring personas and using them in everyday life, it changes the way organizations view certain challenges.

In the past, businesses could narrate their story through their marketing, now the business' story is defined by your customers.

If your principal goal is to drive brand awareness, social media is the perfect (digital) space for you, and it's (mostly) free. An effective social strategy can take hundreds of hours to plan and execute but if you are a smaller organization, start by having a plan and utilizing the people around you to help execute- employees, customers, fans. A good portion of marketing is about research, organization, and planning. Don't just create a Facebook page for your business without a strategy behind it - you'll end up wasting time and money.

If one of your goals is to increase leads, it may make sense to look into pay-per-click, SEO, blogging, inbound marketing, and other tools to drive traffic. It's important to note that if you are investing in digital (or any marketing), your website is extremely important to digital marketing's success. Your website is the single greatest tool you possess to increase sales.

Want to see how your website is performing? We will check it out, and let you know!